Mount Rainier Speed Record
I finally got the call from the Dorais (It's pronounced DOE-RAY, and the D is not silent) brothers last week and it was game time! Pack up the bags and drive 13hrs to Rainier.
I've been shooting them and their "ski-running", or randonee, or even worse SKI-MO (can we please come up with a better name) approach to big mountains for the upcoming film. We had been out around the Wasatch, but this was the big idea, to shoot them setting a record on another iconic American peak (they currently hold the speed ski record on the Grand Teton). I was excited to try and capture this event AND get to ski Rainier for the first time. Mixing business with pleasure? Don't mind if I do.
Simply put these guys strap on the lightest equipment available, strip down to next to nothing and run up, then ski down mountains as fast as possible.
Our objective route, the Disappointment Cleaver. Their goal was to beat the 4hr mark. The current speed record was 4hrs 19mins. The volunteer ranger volunteered the information that it wouldn't be possible because of conditions, not this year at least.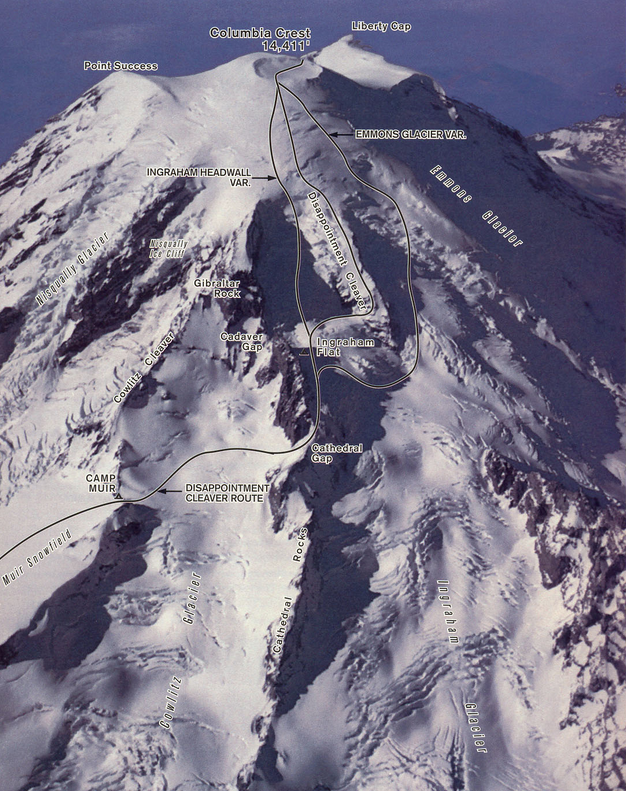 We arrived shortly after a storm that had kept summit seekers at bay for a week or more. Lots of things had to come together for this to work out. The weather would need to cooperate,  snow would need to remain firm, folks would need break the trail to the summit.
Until that happened we hung out low on the mountain getting sun tanned and acclimated while making plans and turns.
Andy swears that matching won't make you faster just makes you look good.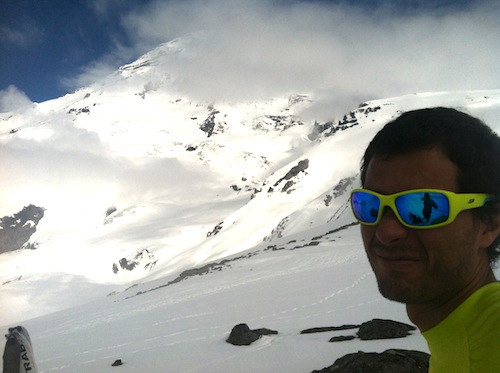 And apparently Jason agrees.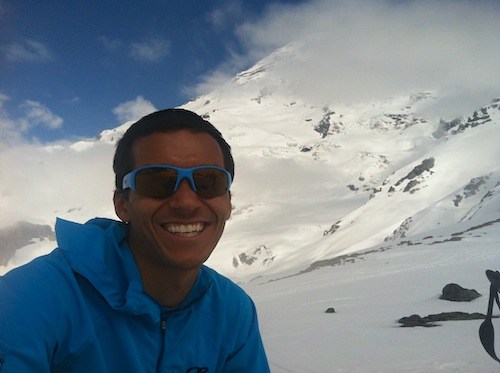 It was funny watching the bro's trying not to go stir crazy. They dialed in the lower mountain and put in their own booter to avoid the sloppy mess of a trail left by herds of climbers.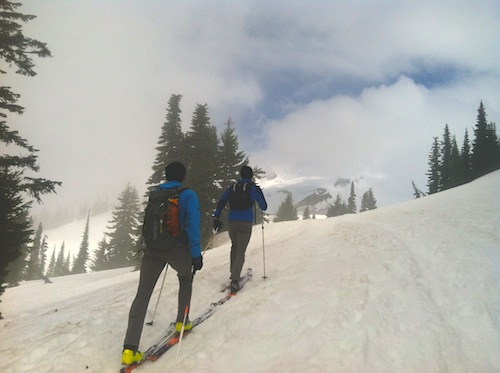 Our window of opportunity was only 3 days and it wasn't until the final day that the route opened up. Many thanks to the guides and rangers and climbing parties that blazed the way.
Filming this speed business is tricky. I obviously can't hang with them especially with camera gear. My plan was to head up the night before, sleep for a few hours at Camp Muir then continue to the top the next morning. We would all meet up around 9am on the summit where I would film them victoriously sucking in thin air. I packed up as light as possible excited to get a sunset and sunrise on this mammoth mountain.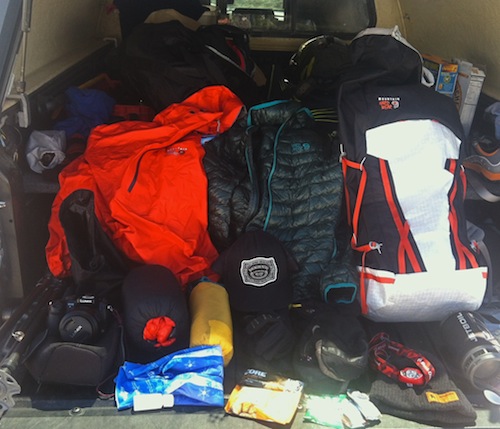 I arrived at Muir around 11:00, cooked up some beef stroganoff and got a few hours of "sleep". The hut can be a really loud and busy place with folks coming and going at all hours. It's a great shelter from the elements though.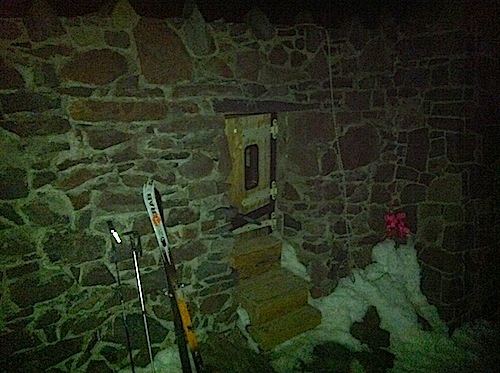 I woke and brewed up some coffee while the sun percolated. These are the moments where work and play get blurry. Things were lining up really well.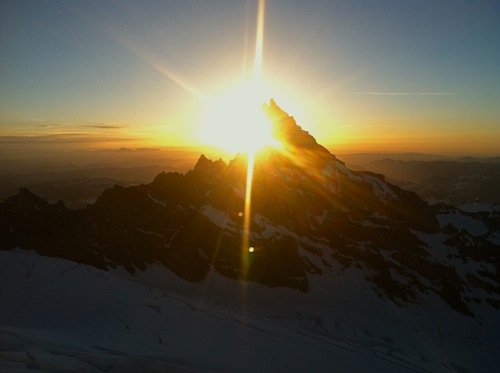 My hope was to summit, but soloing glaciated terrain is risky business. I told Andy and Jason that I would advance as far as I felt comfortable. If things got too sketchy I would just wait and film them from whatever point I was able to reach. The route was well traveled and there were many parties out climbing.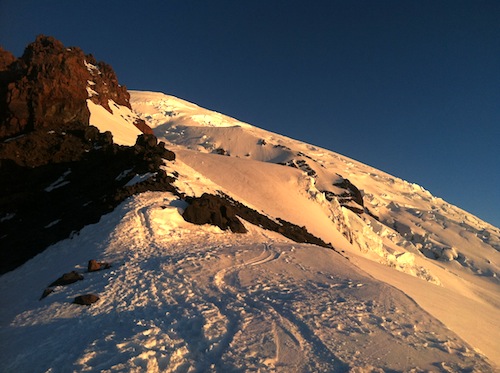 Ascending was perfect and I found myself thinking about the fellas and randomly yelling out "C'mon guys"! I also told all the climbers I passed about the fitness they were about to witness, and that they should heckle the guys in tights when they blew by. I topped out and the clouds moved in. Winds were a blustery 40-50 mph so I snacked and hunkered down. They wanted to be to the top by 9:00. 9:05 came and went, 9:08 and still no sign. Shit, shit, shit! I kept thinking something happened. Then I saw Jason speeding along in the clouds and I flipped out, yelling and howling at the top of my lungs and almost forgetting to film. They saw me and shot over for a quick transition and in a minute or two were skiing off into the clouds. They were pretty cooked and Andy couldn't mutter a word, but it was all downhill from here. They had covered 7 and a half miles and 9 thousand feet in 3 hours and 15 minutes. Unbelievable! Seriously, do the math, or better yet, give it a try!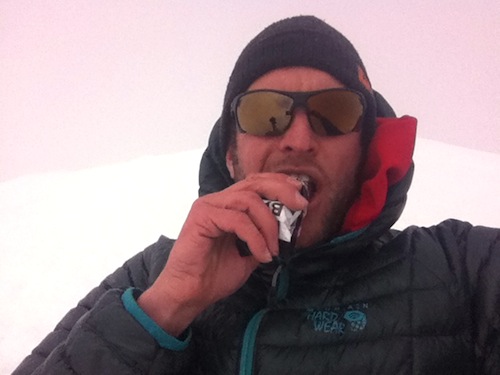 I packed up and followed them down. My timing for ski conditions was fine, but an encounter with a group of 3 rangers was untimely. I bowed my head and took the verbal beating and chastisement for soloing the route. I was warned, but didn't receive the $250 fine.
Meanwhile the dynamic duo safely descended the route reaching Paradise in 3:57 minutes. New record!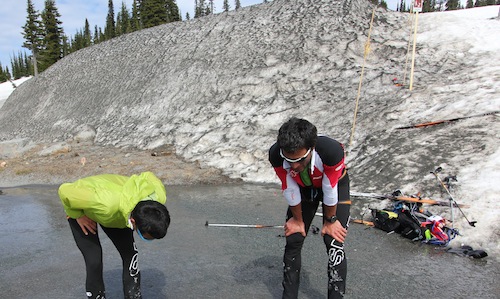 All the waiting around had paid off and they were fired up!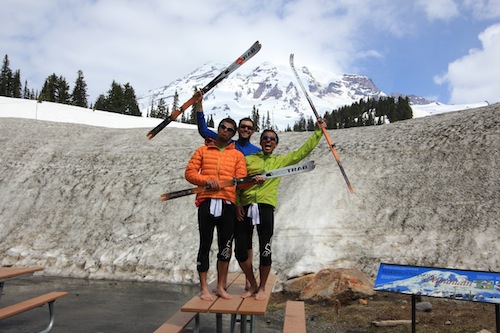 Thanks for letting me tag along fellas! It was fun to be part of that day and to see it go down live. I like to think I was a huge part of their success. They told me that wasn't the case. It had more to do with their training, aerobic capacity and desire. Kodak courage must have given them an extra boost to go sub 4hrs.  Great outing and we are really lucky conditions all came together to pull it off. Look forward to a QUICK segment in the upcoming film.
Check out the record setting day from their perspectives and keep up with their latest projects.
Posted by Noah